When using Microsoft Excel or Google Sheets to as your price management software, you're automatically giving up on the opportunity to increase your conversion rates thanks to automatic updates of your pricing strategy.
If you still pondering on what pricing strategy to apply to your work, check out some of the best models for eCommerce businesses explained in depth on our blog.
It's quite possible that you already have a spreadsheet filled with formulas with info gathered from your enterprise resource planning software or if you're a smaller company you've done that manually. You're crunching those numbers on daily basis just to hold a grip of how the change in prices you implemented last month has affected your sales. 
You're not the only one doing this process right now and it's quite possible that you're not the only one seeking a solution. The reason why so many people want to get out from this closed circle is because it's:
Time consuming
Doesn't provide accurate data all the time
It's complicated to transfer the knowledge from the info you get
Requires great deal of manual work
It's easy to make a mistake
Doesn't affect your overall sales strategy as it should
The process as it is can work. You may find yourself in a position where you don't need to change anything in your excel for years, but what about scalability of your business? Crunching numbers like this, so you can set up the right pricing strategy isn't a long term solution.
What You Achieve By Using A Price Management Software
Here's where price management software kicks in, so it's great time to explore some of the benefits it offers:
Real-Time Updates
Decrease the time you spend setting up the paperwork for your pricing strategy by setting up some predetermined parameters that will update your product prices in real time. Some of the elements you can automatically update by using price management software:
Pricing rules
Customer packages
Benchmark pricing
Promotional pricing
Determine The Impact of The Changes You Make
Each change in your pricing strategy will somehow affect your sales volume or other parts of your promotional activities. Knowing when this change took place gives you an insight of the effectiveness of the pricing update you've made.
Grouping your product prices for different segments of your audience is also a tactic that when used properly shows you how your audience reacts to changes at certain points of the buying cycle.
Increasing your price after you've penetrated the market is a nice idea, but how does this affect your sales volume and ROI?
It's All About Testing
Like everything else in marketing, testing is huge part of your pricing strategy. When you get a price management software to back up your decisions, these tests will eventually result with a perfect solution.
The goal is to put yourself in a position where your products are achieving the maximum price and at the same time your ROI and revenue share is growing.
Pricing Conflicts Can Be Automatically Handled
When running promotional activities for your products, discounts and coupon codes become an everyday struggle. How do you handle with conflicting offers?
It would be strange if your customer could get a certain product with a 90% discount, just because you didn't solve your pricing conflicts.
Extensive promotional activities can get you in a situation where you offer different discounts to different audiences. The important thing here is to limit the use of a single promotion per purchase or set other restrictions like "first time purchase only".
Use Advanced Pricing Methods
One of the biggest limitations when using an Excel type program is not being able to use advanced pricing methods.
It's quite possible you can offer bundle pricing and discounts for your products at the same time. Heck, sometimes it's smart to give your customer the opportunity to create his own bundle.
Mixing different pricing methods will significantly improve your conversion rates, so why miss out on the opportunity to expand your reach just because you're unwilling to move up from that excel sheet.
The Role of RooJet in Your Pricing Strategy
These are only some of the many advantages price management software can offer and are mainly targeted towards the improvement of your daily activities in the department and the marketing effects this has on your overall strategy.
The team here at RooJet has also thought about how setting up the right price is important for your business, so here are some of the things you'll be able to achieve by using our software.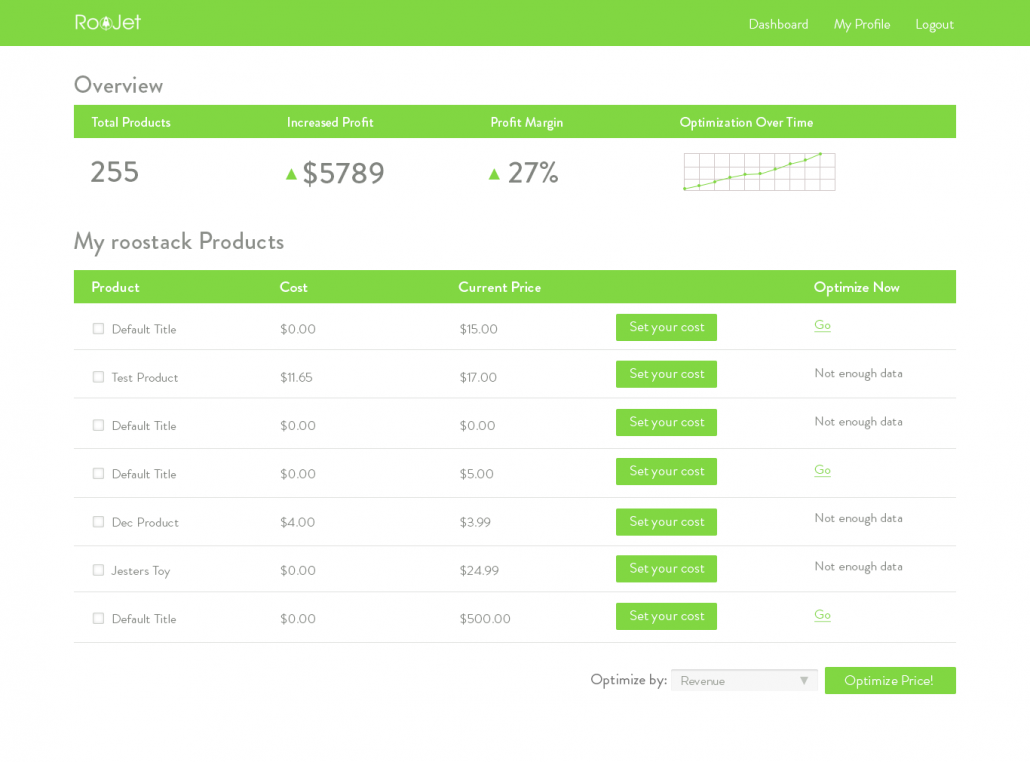 Best Price Prediction
Figuring out the best price you can set for your products can be hard, especially if you operate in a competitive environment.
Even if you conduct an extensive research of your competition, you may still end with many uncertainties regarding your pricing strategy.
RooJet has an implemented price optimization engine that will automatically show you the best price for your product based on data gathered from the eCommerce platform you're using and your competition analysis.
Customer Specific Pricing
Each customer you get has a specific buying behavior, which is determined by his purchase history and great deal of other behavioral elements.
Once you plug RooJet to your eCommerce platform you'll be able to learn a lot about your customer base and the price optimization engine will give you the opportunity to set the best price for your specific buyer persona.
Never Experience Loss
With the implementation of RooJet as a part of your marketing strategy you'll be able to determine the dumping price for each product you have in your inventory.
Meaning, you'll be able to adjust your costs for the marketing efforts of a single product to reach a certain part of your audience and make profit with every sale you make.
Thanks to RooJet you won't sell your products under the cost margin you've set and thanks to the technology of API keys this margin will be updated automatically.
Bottom Line
The only thing standing between you and increased profits from your eCommerce business is the willingness to try out our software for free. No obligations.
Check out what our software can do for you and if you feel it isn't the right fit for your business, cancel your subscription at any time. We're so bold that we offer guaranteed increase in profits and unlimited pricing optimization of your inventory.
https://roojet.com/wp-content/uploads/2017/08/image-300x105.png
0
0
admin
https://roojet.com/wp-content/uploads/2017/08/image-300x105.png
admin
2016-03-23 19:08:57
2018-01-20 10:04:02
5 Benefits of Using Price Management Software