Your Complete Guide to Email Address Search in 2018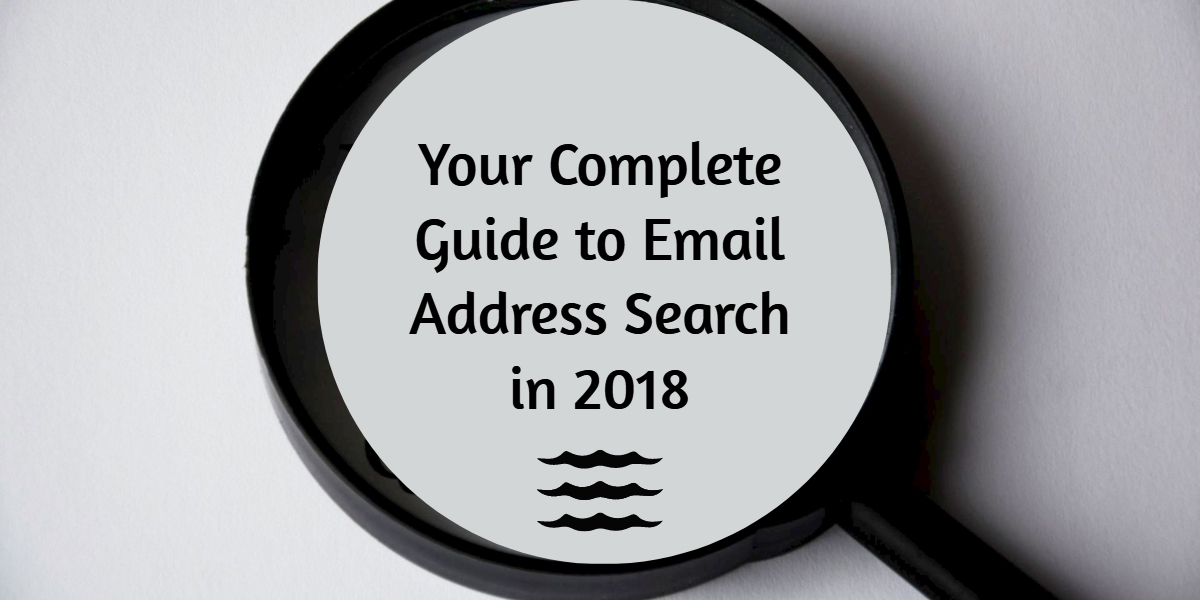 How do you do a successful email address search in 2018? The whole process of outreach marketing is tough work. Most people focus on finding innovative ways to ensure that prospects open, read, and reply to their cold emails. But they forget about one very important aspect of the process – how, exactly, do you do a prospect's email address search?
Start A Cold Outreach Campaign with One Click! More Leads - More Customers.
Find Emails From Any URL
Add To A Outreach Campaign (One Click!)
Follow Up Automatically

Start Your 7 Day Free Trial Now!
Email address search is something that most people don't talk about very often, but it's the first step in getting sales leads or building any relationship. As a marketer, salesperson, blogger, freelancer, or someone who just wants to send a cold email, you want these email contacts in order to:
But finding the email addresses you need can be quite the challenge. Unfortunately, the people you want to reach are doing their best to protect their email contacts. And this is understandable. After all, in today's Internet world, your email address controls your online presence. So it's no surprise that they guard these contacts well.
Luckily, there are tons of resources and tools that can help make your email address search easier in 2018. But it is important to use this information responsibly. Remember, the main goal of any outreach campaign is to build relationships that are mutually beneficial. So keep your emails as relevant, personalized, and targeted as possible.
With that disclaimer out of the way, here is everything you need to know about email address search.
Your Complete Guide to Email Address Search in 2019 [Updated]
Table of Contents
Why is it Important to Find the Perfect Email Address?
You've spent time looking up effective cold email templates and worked on your personalized pitch until it's perfect. But you're missing one thing: the perfect email address.
The goal of an email address search isn't to find just any old generic email address. You're looking for a valuable employee email that is relevant to your pitch. If you want the prospect to take you seriously, then you have to go directly to the source. The main aim should be to reach someone who can make the appropriate decisions about your cold email pitch.
This is especially true if you are contacting people who don't know you. In this day and age, it is very hard to hide your online presence, but some prospects are very good at this. But settling for anything less than their personal email address won't do your outreach campaign any favors.
And even more importantly, taking that extra step to get directly to the source shows that you are proactive and have real initiative. This will help you set yourself apart from the crowd and get the prospect to take notice. Every little bit counts when it comes to getting people to respond to your cold email outreach.
How to Do an Email Address Search
As with everything else that has to do with cold emails, the process starts with research. Granted, there are many tools (free and paid) that can help you find anyone's email – and we'll get to that in a minute. But, before anything else, you have to know the right person to contact about your pitch.
Start off by looking into the company you want to pitch to. If you come across an interesting email during your research, make note of it. But your focus here is to find the right person you want to email. If you're looking for a job, does the company have an HR department to make those decisions, or is it up to the department head or some kind of hiring manager?
And if you're sending a sales pitch, who is the best person to make buying decisions at that company? All this is important information to know because different organizations have varying corporate structures. Without research, you might make wrong assumptions that might affect your outreach campaign negatively.
Begin your company research at their website. You'll learn a lot about the organization and you might even get the email address that you need. The "Team" or "About Us" page is a great resource for you here. Look at individual team members and their job descriptions to give you a great starting point of who your target should be.
Once you have this basis, you can move on to LinkedIn or the company's social media pages to give you more details:
LinkedIn has grown from a simple networking site into a vital resource for professionals around the world. You might not get the right email address here, but this platform can give you a lot of detailed information about a company or potential prospect.
For any business email address search, your objective should be to:
   Nail down the right contact person with the right role in the company

   Find out if you have LinkedIn connections that would help you reach out in a more personal way than a cold email. If you can find someone to make an introduction, this will be great for you.
For the most part, professionals keep their profiles on LinkedIn pretty up-to-date. There might be times that you think of someone to contact, go to their profile, and find out that they don't work at a certain company anymore. Deleted. The point is, if you pay attention to the details, you will find the right target.
Either way, start your company research on LinkedIn by looking at the organization's page. Familiarize yourself with its theme and mission, and see if they give any range of how many employees they have. Then check the members to see if you have any second or third-level connections. If you do, this is a great way to get an introduction or even connect.
With this done, you'll hopefully find the right person to target. Since every person sets up their LinkedIn profiles different, it is crucial to go through each section to find the info you're looking for.
The goal here is to find out all you can about the prospect's past and current position, then go over their job experience and descriptions. This could provide an eye-opening tell to show you if you're looking into the right person.
If you already know the right person to contact, you can run this simple query on Google to find their LinkedIn profile:
"(Prospect's name) + LinkedIn"
If the company has a Facebook page, they will most likely list a current email address in their "About" section. Although it might be a generic address, it could be a good starting point and give you important information on how the company structures its email addresses.
It is also a good idea to check their latest posts to ensure that they are recent. If the company last posted in 2015, then sending them a message directly via Facebook might not get you the results you need.
Apart from that, review what they are posting about. Take note of any major events like conferences they are attending or events they are hosting. If so, they will likely be too busy to reply to any emails sent at that time. Recent Facebook posts are a great way to find out when would be the best time to reach out to your target prospect.
Now that your research is out of the way, you might have gotten lucky and stumbled upon a working email address to use for your outreach efforts. But even if you haven't, you've found some pretty critical information that will help you know who to target and how to personalize your cold email to them.
In this case, the next step would be getting into the actual email address search. You can do this in a number of ways:
Business Email Address Search
Everyone that works for a company has an in-house corporate email address. Now, if you've done your research well, you'll know where a potential customer works already. So when you're trying to find their direct contact information, one of the best resources is a company email network such as LinkedIn.
If that doesn't work, then visit the organization's website and start running your company email address search. You can run queries using the prospect's name, which might bring up any indexed documents that have their email address.
But most times, this approach will just give you generic citations, not the actual email address. So you'll have to use more specific queries to get the information you need. You can use something like this:
   "(Prospect's name) + email"

   "(Prospect's name) + contact"
These modified queries will really increase your chances of finding the right email address.
But if you're still coming up short, you'll have to roll up your sleeves and so some more in-depth sleuthing. In this case, break out some creative search operators on Google. In most cases, these will give you more results than an internal company email address search.
You can use these queries for a basic search:
   "site:companywebsite.com + (prospect's name) + email"

   "site:companywebsite.com + (prospect's name) + contact"
But if this doesn't work too, it's time to bring out the big guns. Every company has a unique but uniform company email address structure. With knowledge gotten from your research, you can leverage this information to improve your search efforts.
A great way to do this is by using advanced Google search operators. If you don't know the company's email structure, then you can play around with various common options. These include:
   "site:companywebsite.com + FirstLastName@companyname.com"

   "site:companywebsite.com + FirstName.LastName @companyname.com"

   "site:companywebsite.com + FirstInitialLastName@companyname.com"

   "site:companywebsite.com + FirstName@companyname.com"

   "site:companywebsite.com + FirstName_LastName @companyname.com"
It is important to note that the information you're searching for with these queries will be bolded in the meta tag snippets, so keep an eye out for that.
Free Email Address Search by Name
When it comes to free email address search by name, it is best to start your hunt on Google. Running a generic search query for a potential customer's name probably won't get you very far, unless the target has a really unique name. Otherwise, it would be better to add some modifiers to your query to get the best result.
You can use something like this to narrow down your search results:
   "(Prospect's name) + email"

   "(Prospect's name) + email address"

   "(Prospect's name) + contact"

   "(Prospect's name) + contact information"

   "(Prospect's name) + contact me"
If this doesn't work, get even more specific by adding any personal information you got about the prospect from your research. Your query could look something like this:
   (Prospect's name) + "name of company they work for"

   (Prospect's name) + "hometown"
Better still, you can mix and match these modifiers to narrow the focus down.
That said, free searches can only get you so far. Most times, they produce results less than ten percent of the time. If you want the best results, you will have to go corporate.
Start A Cold Outreach Campaign with One Click! More Leads - More Customers.
Find Emails From Any URL
Add To A Outreach Campaign (One Click!)
Follow Up Automatically

Start Your 7 Day Free Trial Now!
Email Address Search Sites
After exhausting all these options with no success, it may be time to turn to email address search sites. Simply put, these are online tools that are designed to help you find any email address.
You can either use a free email address search engine which gives you a limited number of free searches every month or go with a paid option. The best email search address search sites for either choice are:
Any company needs a steady flow of new business to survive, and most of this comes from promising customers that start out as cold leads. That's where RooJet comes in. This is a paid service that helps you find and connect with any prospect via cold email.
RooJet's focus is on making email outreach simple. You can use this to find all emails that are connected to a particular website and add them to your outreach campaign with one click. RooJet helps you save time and money while reaching out to new prospects consistently.
And even better? You can use RooJet to automate your follow ups and track the success of your email outreach campaign. Choose the best pricing plan for you to start sending effective cold emails today.
Toofr is another paid email address searcher that helps you find verified emails for any company or business. All you have to do is enter the prospects first and last names as well as their website or company name.
Then, it uses a ton of common corporate email structures and results from mail servers to give you an accurate email address. You get up to ten free searches but have to subscribe to continue using this service.
Rapportive is an awesome Google Chrome add-on that integrates Gmail with LinkedIn. It is useful when you are trying to find a potential customer's email address, especially when you're very well-connected on LinkedIn.
For most companies, they use email addresses that follow a specific set of naming conventions. The most common email formats are as follows:
   FirstNameLastName@company.com

   FirstName.LastName@company.com

   FirstInitialLastName@company.com

   FirstName@company.com
What Rapportive does is allow you to guess a prospect's email address, then copy-paste each guess into a new message on Gmail. This helps you find out if any of your guesses are actually connected to a real email address. It also gives you information on every person you find, allowing you to keep doing this until you find the right one.
VoilaNorbert is a relatively new tool that lets you find email addresses fast. All you need is the prospect's name and website and the tool returns an accurate email address.
It is also important to note that VoilaNorbert is a paid service. You can still run a limited number of searches per day for free, but power users will have to upgrade.
Who.is uses data that is available in the public sphere to show you who has registered a specific domain.
It gives you email address search free results, but may not be very reliable all the time. That's because most professional companies have registered and secured their domains with privacy protection.
But if you're searching emails on a domain that is owned by a single person, this free tool could give you the answers you need.  
Reverse Email Address Search
Sometimes, you may find yourself starting from the other end of the track. You may have an email address but you're not sure if it belongs to the person you want to contact. That's where a reverse email address search comes in.
Reverse searches are a great way to verify email addresses. They allow you to find people using their email address. Such searches usually generate all kinds of data such as the prospect's photos and social media profiles.
From this information, you will be able to come up with extra data on the prospect's name, physical address, and even their phone numbers. If you use the right service, you could even find all sorts of public records. It is actually quite surprising the kind of information you can get on someone using just their email address and a reverse email address search.
This kind of search can be very useful to marketers and salespeople. It can help you validate the identity of a prospect to ensure that you have the correct email address before you send out an email. It is also useful for generating new leads and find out enough information on prospects to send highly targeted and personalized cold emails.
To run a reverse email address search, simply type the address into Google and hit "enter." If the address has been used publicly on the Internet (for example, on a website, personal blog, message board, or social networking site), then the search will come up with in-depth results. For the best results, it is advisable to use at least three search engines for your search.
To refine your results even further, you might want to try using specialized networking search tools for your search. Some examples of these tools include ZoomInfo and YoName. Such sites search across many different social networking communities to find the owner of any email address.
Once you have compiled your contact list, it is important to weed out any old email addresses from there. The best way to do this is by running an old email address search.
It is very important to run this kind of search before starting on your cold email outreach campaign. That's because it will help you identify and remove invalid email addresses. This is crucial to reducing your bounce rate, which can affect the results of your campaign by ruining your deliverability.
To run an old email address search, it is best to go with a tool that is designed for that reason. The best one that is currently available on the market is ZeroBounce. Not only does this tool help you identify and remove old email addresses from your final contact list, it also helps you append missing data. This could include information like the prospect's first and last name, city or state, and even country – if you provide the relevant website IP address.
If all else fails, you can resort to last-ditch efforts like contacting your prospect through LinkedIn, Facebook, or Twitter messages and asking them for their email address. This may not work out so well because it all depends on whether or not the prospect is willing to do this. But you can save it for your last resort if every other option fails.
Aside from that, finding email addresses doesn't have to be a hard, stressful process. Using these tips is a great way to run an email address search and start a meaningful conversation with prospective customers.
If you are persistent and relentless, there is literally nothing stopping you from finding the right contact information for any prospect. This could be the break you need to increase sales, promote your brand, or expand your network.
Start A Cold Outreach Campaign with One Click! More Leads - More Customers.
Find Emails From Any URL
Add To A Outreach Campaign (One Click!)
Follow Up Automatically

Start Your 7 Day Free Trial Now!