How to Find Out Where an Email Really Came From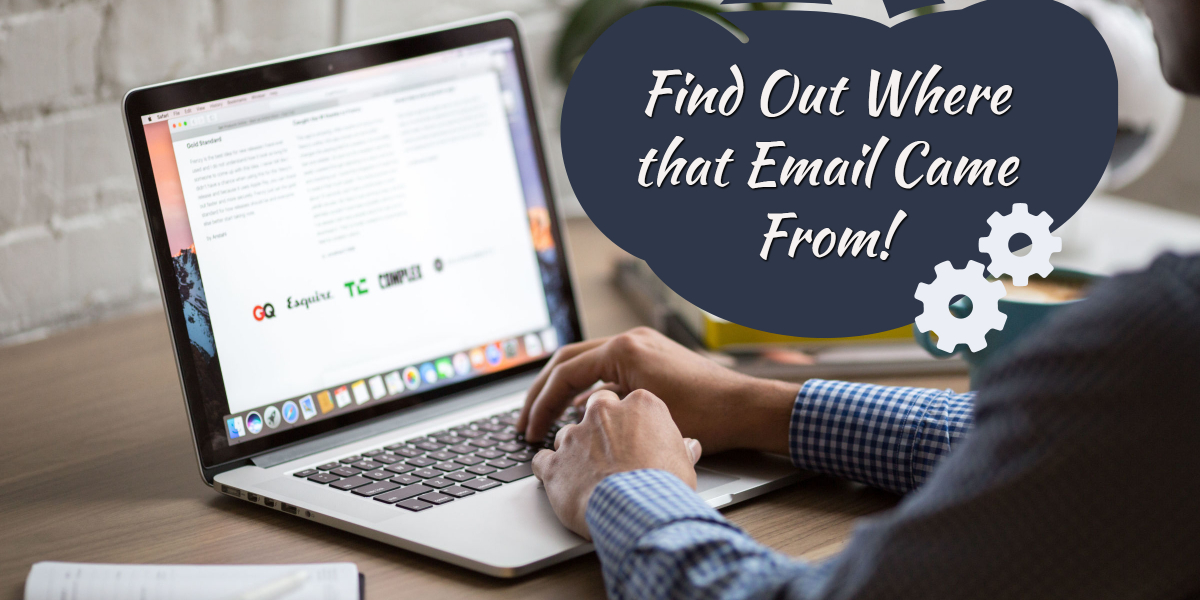 By this point, we have already established that email can be an incredibly potent marketing tool – but only if you use it right. The first step of kicking off any email outreach campaign is to actually get the email addresses of the people that you want to contact. Otherwise, your campaign will flounder right at the starting gate. But, in this age of rigorous privacy defense, how do you find prospects' email addresses?
Unfortunately, this isn't as easy to do as it was a few years ago. And we blame spam for the this. When people were still figuring out the Internet, they were much freer sharing details like their email addresses online. Obviously, all that has changed. Concerns about hackers, privacy, unsolicited emails, and scams have made everyone that much more vigilant about protecting their online identity.
Does that mean that it will be impossible to find a prospect's email address? Not at all! But it is bound to be a difficult process. That's why we thought we would share the tricks of the trade to make it easier for you to run an email address lookup whenever you need to.
How to Find Out Where an Email Really Came From
Table of Contents
The Importance of Detailed Email Lists
Email marketing is an important tool in any marketer's arsenal. That's mainly because it offers you a widespread reach and has incredible viral potential. Apart from that, email is the primary driver of all business communication. It allows you to connect to any type of prospect in a way that no other marketing tool can.
For marketers, the most obvious reason why you should always have a list of potential customers to contact is to maximize your company's revenue. Think of your email list as a business asset. Not only does it allow you to push your product or service to a mass of willing customers, but it also increases their value to your company. That's because a high-performing email list can create additional revenue opportunities for you.
At the end of the day, you're not seeking out prospects' email addresses just to bombard them with marketing emails. Instead, the whole point of this process is to increase your company's revenue and overall value.
The only way to do this is to customize your approach to each prospect. This includes everything from the first email to the follow up, even if they were the first to reach out. But how can you do this without knowing anything about the individual? How can you follow up effectively without a current email address or phone number? And, most importantly, how do you decide whether or not to do business with them without a bit of background checking? That's where email address lookup comes in handy.
The Question of

"

Quality

"

vs.

"

Quantity

"
Because of the reason above, your focus shouldn't just be on building a large email list. Of course, the number of people you are reaching is just one of the important metrics you should keep track of throughout your email marketing campaign. After all, a larger email list offers greater potential for you to generate revenue from it.
But it's also important to ensure that you are reaching out to the right "quality" of prospects. Have they shown a need or interest in your product or service? With a little nudge from you, are they likely to buy? Simply exporting your old contacts or renting a huge email list won't give you the ROI that you're looking for. But focusing on a few leads that are interested in your brand will.
That's why it's usually a better idea for you to start an email marketing campaign slowly and keep at it consistently. Cultivating quality prospects over time is the only thing that will help your business grow. Of course, you will eventually need to operate with the largest email list possible. But taking your time will ensure that you end up with a pool of quality prospects who will respond to your offers and raise your company's revenue.
But in order to reap its benefits, you first need a list of viable prospects to send those amazing cold emails to. Fortunately, there are lots of ways to collect real email addresses without resorting to any black hat techniques.
How to Find Out Who Emailed You
Advances in technology have impacted business communication in amazing ways. Forget about meetings and reading reports: email still retains the top spot for many companies today. In fact, recent reports indicate that more than 260 billion emails are sent and received every day. That's pretty impressive for technology that was initially designed to only send messages between users on the same computer system!
At that time, you could easily tell who sent a particular email because all account holders were verified by each system administrator. But that all changed in the 1970s when the first email message was sent between multiple systems. Since then, the flaws in the system have only become more glaring.
Today, one user can have multiple email accounts across several different domains. Furthermore, system administrators can no longer verify who each user is. This has made it that much harder for people to know just who has sent you an email without a reverse email lookup.
Once they receive an email from someone they have never interacted with, most people will want to know a little something about the sender. This is important if you want to move the conversation forward. In fact, knowing more about the email sender will help you craft the perfect follow up email to them, especially if they are interested in your product or service.
So, how do you find out more about the email sender without asking them directly? If the only information you have on the sender is their email address and nothing more, here are a few techniques that could help you find out who emailed you:
Reverse email lookup is the most obvious answer to your problem. The best place to start off with this is on a search engine like Google. This is also the best way to get reverse email lookup free results. Of course, Google is the obvious standard for search engines but any other well-known one will do too.
Running a search of the sender's email address may lead you to some critical pieces of information. For instance, you might be able to find all the web pages that are associated with that particular email address. Examining the search results could also tell you if that address has been used to send unsolicited or unauthorized emails. As a result, you will be able to separate the legitimate senders from the spammers.
All you have to do is simply type in the person's email address on the search engine. But if that person doesn't have a website, or have never used their email on a public forum, then Google's search engine won't be of much help.
If the first step doesn't work, you might want to check the contents of the email itself for some useful information that can help you determine the sender. First, if the message claims to be from somebody you know, you might be able to identify any grammatical or spelling mistakes that they wouldn't usually make. And if so, then there is a good chance that the email isn't from that person.
If the message is from someone you've never interacted with before, there are other ways to confirm the identity of the sender. In this case, you will have to check out a couple of things:
   Examine the email's headers. This will help you determine if the server that transmitted the email is the legitimate email server for that sender's domain. This process can vary from one email program – or web interface – to the next. That's to say, a Gmail lookup might be very different from one on Yahoo. So take the time to check for instructions from your email provider.

   Confirm that any links used in the email actually point to where the message says they do. This will be pretty to do in most cases. All you have to do is hover your mouse over the link to reveal the actual address that it will redirect you to.
•    Check the message header to find the physical location of the server that was used to transmit the message. This will involve finding the server's IP address in the header. Once you have that, you can use most search engines to get an approximate location on the map. But if you need something a bit more hardcore, you can use an email IP lookup tool to locate the server.
Over the last few years, social media has proven to be one of the most significant game changers in the business world to date. Companies are using it to retain customers and drive up brand awareness like never before. But did you know that social media can also be the perfect playground for the amateur sleuth?
Most people maintain profiles on various social media platform. The most popular ones for professional profiles are usually Facebook and LinkedIn. This means that you can turn to social media to search for the identity of a message's sender using just their email address.
After all, these platforms require all users to list a current email address in order to open and maintain an account. So, there's a good chance that you may find the person that you're looking for. And even better? It's may also be possible to cross-reference the results of your search across different social media sites. This will help you be 100 percent sure that any profile you find actually belongs to the person that is listed.
The email address lookup process might vary from one platform to the next. We'll get into the specifics of how to search on each in the next section.
Use a People Search Engine
Verifying email senders has become a pretty universal problem in the last couple of years. That's why developers have come out with various purpose-built search engines that offer email lookup services and reverse email lookup search functions.
These search engines make use of the vast amount of data that is publicly available on the Internet to link email addresses with their senders. Some of these services even offer full background check capabilities. This allows you to access plenty of detailed and specific information about the sender as well.  
Free Reverse Email Lookup
If the tricks above don't work, then it might be time to break out the big guns. Reverse email searches may be the answer to your problem. Now, there are various online portals that offer this service.
Most are free services, but it's important to note that you might need the paid services at some point. It all depends on your preference and the level of detail that you need. Here are some pretty effective free ways to get you started:
Pipl Reverse Email Search
Pipl is one of the largest people search engines currently in the world. Its main aim of this free reverse email search engine is to give you a way to verify the identity of anyone behind an email address, phone number, or social username. It does this by searching across multiple search engines, social networks, and databases to find the more in-depth details that you would not get through a rudimentary search.   
The best thing about Pipl is that it can do all this with only one data point. So, if all you have is an email address in this case, you can be able to match it to a complete profile. All you have to do is enter the email address you are interested in into the search engine and wait for it to do its magic. You should be able to verify any email address in no time. However, it's important to note that some of the data returned by this service is only available to subscribers.
Facebook has made history by being one of the largest social networks currently out there. With more than a billion users, it is very likely that your email sender may have a profile on Facebook.
What most people don't know is that you can also use Facebook as a free – and very effective – reverse email search tool. Unlike other social networks, Facebook even makes the process pretty simple. You can easily search users by their email addresses on the platform. Just enter the address you are trying to verify into the search box and Facebook will let you know instantly if a profile with that email address exists or not.
If your search here is successful, the next step is for you to download the person's profile picture and upload it to Google Images. This will act as a reverse image search so that you can identify any other social profiles where the prospect has used the same photo.
If Facebook doesn't give you the results that you are looking for, you could start searching through other social media platforms. This process will go faster if you use dedicated free reverse email lookup tools like Knowem to find out if a profile with a specific username exists on any social networking platforms.
Conveniently, most of these tools let you run the search using only the email address as the main data point. Soon, you will be able to find out the LinkedIn and Twitter profiles associated with any email address, if it even exists in the first place.
Gmail has earned the distinction as one of the most unique web-based email providers currently on the market. And it's popularity only continues to grow; it is now the top choice for millions of users around the world. It has one of the easiest account registration processes out there. Gmail is also very easy to use and offers a number of features that are unavailable on other web-based email sites.
It also helps that, unlike other email providers, Gmail is considered elegant enough to be used as a business email address by many. That's why you will find a wide variety of people using it – from the average person to company executives and CEOs.
But did you know that it also has functionalities that let you use it for reverse email look ups? And the best part is that you can do so right from the comfort of your home page. The first way it does this is quite unintentional on your part.
Without your prompting, Gmail organizes your emails in related threads. This helps you see the email history you have had so far with a particular prospect. In many cases, this is usually enough to jog your memory and help you identify an unfamiliar email sender. All you have to do is type in whatever you are looking for in the search engine at the top of your page. Then, Gmail will be able to pull up all the answers that are relevant to your search.
Unlike other email providers, Gmail doesn't have a public email directory. This makes it impossible to run a member search on the platform. That's because the company has always operated on the mentality that everyone's email address should remain private. So, how can you go around this roadblock?
First, it is important to keep in mind that, even with the absence of a public email directory, reverse email look ups can still be done. You can't search for member names using their email addresses, but you can access the history of any email you have sent or received – from any email address. Just type the address to the "To:" field and relevant autofill data will appear.
But this is only helpful if you can't remember a particular email address. How can you find the person behind the address? Well, it might be helpful to use Gmail with an email search service like RooJet. This lets you find all the email addresses that are related to a particular domain. It then allows you to add these addresses to your campaign with just one click. Pretty convenient, right?
Spy Dialer is a free service that lets you find information about people, phone numbers, and email addresses. While it's primary focus is on phone numbers, Spy Dialer is also quite effective at looking up information related to particular emails.
Spy Dialer works in three ways. First, it offers a free people search which lets you find out pertinent details about anyone. It does this by going through user-contributed address books and millions of public data records to find a person's email address, phone number, and work info.
The service also provides a phone spam lookup to block phone spammers like robo-calls and opinion surveys.
But the most relevant function for us has to do with emails. With its Name Lookup service, Spy Dialer lets you use an individual's name to search through multiple data sources and public records to find the phone number associated with the name. So you can take the result of your email address lookup and find more details to help you build a more comprehensive profile of any prospect before even speaking to them.
If used correctly, this tool has the potential to enrich your email outreach efforts immensely. Of course, there is the potential for abuse with this tech. Also, Spy Dialer is limited to data in the United States only. It's important to note that some of the resultant data is only available to paying members.
In any job, you should always try to use the right tools and techniques to get it done. This is usually the best way to save you lots of valuable time, money, and effort. And that's the same case when it comes to email address lookup. Using the tools outlined above will help you find the name behind the messages you receive, as well as verify the sender's identity, with very little effort involved.
Using these tools will also go a long way in keeping you safe from the email scams and online harassment that is so prevalent today. It also helps you delve a little bit into anyone you plan on doing business with. A little bit of due diligence never hurt anybody!
But if all these tips and tricks fail, you can turn to offline search resources for help. This might take a bit more time and money, but it may be your only saving grace if the prospect hasn't posted their email address publicly online.
Do you know of any other email address lookup or reverse email lookup method that we haven't covered here? We'd love to read all about them so drop them in the comments below!