How to Send Effective Follow Up Emails to Drive Up Sales In 2018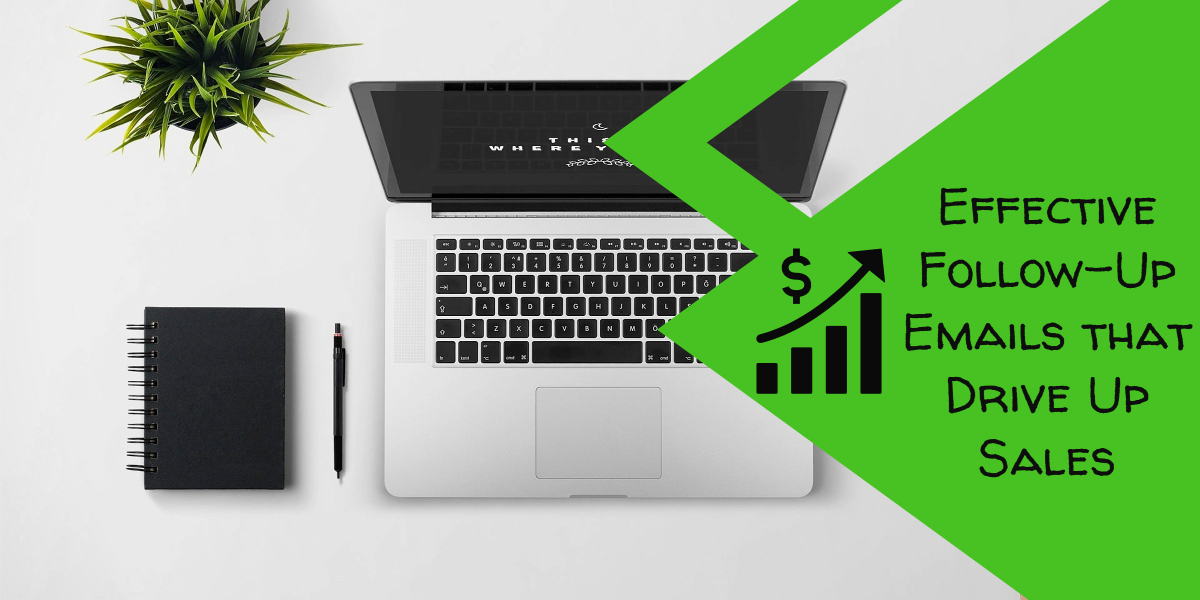 Even with all the technological advances that have come up in the last few decades, businesses still run on email. Despite this, cold email outreach still faces some pretty huge challenges. To make it work, you have to pour in a lot of time, persistence, and attention to detail.
But even then, the best sales emails rarely generate a 40 percent response rate. So, how can you reach the rest of the 60 percent?
Simply put, you have to follow up.
So, why is email so important? Why should you spend so much time trying to get it right? A brief look at all the vital statistics tells a convincing story:
At the beginning of every new month, the sales clock reboots and you have to start contacting new clients or following up on old prospects. To do this right, 2018 has to be the year when you let go of everything you thought you knew and embrace whole new ways of following up on prospects.
For many people today, a follow-up email involves sending a generic "just checking in…" message. Could that be the reason why so many follow up efforts are so ineffective? The problem is that those emails are boring and unfocused: the goal of following up isn't to "check in," but to accomplish something specific.
This brings us to a couple of questions that are commonly asked about the follow-up process. When do you follow up?
How many times should you follow up?
What should you say in these emails?
How can you follow up multiple times without becoming annoying?
And, most importantly, how do you write an effective follow-up email that gets prospects to respond?
A recent study shows that your chances of getting a reply to your first cold email rise to 21 percent with the first follow up. Any further sales email follow up will drive those chances up further to 25 percent.
But the main problem is that most marketers and salespeople simply stop contacting prospects after the first email. So why are so many people giving up that early? A huge challenge with sales follow up is that the process of writing and rewriting these messages isn't very easy.
It might also have something to do with the fact that a lot of salespeople are trying to land prospects that are simply not interested. This target group will never get on board with your pitch, no matter how you rephrase your value proposition or how creative your follow up email is.
So, it is clear that , when it comes to sales follow up, the main issue is timing. A lot of prospects will see the first email when they are too busy to open or act on it. But if your subsequent follow up emails catch them at a better time, they are more likely to respond.
That said, it is important to understand how you can write awesome sales follow up emails. Follow the foolproof, step-by-step guide below to find out how:
1. What is the Objective?
Before starting any follow up campaign, you must have a very clear understanding of what your objectives are. This will help you know how to draft the most effective call to action. That said, follow up emails usually have one of the following objectives:
   Asking for information – this can include seeking clarification, getting status updates, or finding out if you got a job or project

   Asking for a meeting

   Looking for a chance to catch up with a particular connection

   Taking the chance to show your appreciation or congratulate a prospect on recent milestones
2. Provide Proper Context
For busy prospects, it is very easy to forget whole pages of email conversation over time. That's why it is vital to jog their memory by referring to a relevant personal connection or common interest. This is especially important if you don't have a close relationship with them.
For example, you can open your email like this:
   Just following up on the email I sent you a few days ago about (mention specific topic)…

   (Name of mutual contact) suggested that I reach out…

   We met last week at the (mention specific location or event)…

   Last time we spoke…
It is important to be straightforward with the prospect right off the bat. So, make sure to let them know what you hope to get out of continuing the conversation with them. You could say something like:
"It would be great to hear more about (mention specific topic) as I'm working on something similar for (name of your company)."
The Perfect Sales Email Follow Up Formula
This proven cold email formula will help get you in front of prospects in an effective and meaningful way. Start by sending out the first cold email. If you haven't gotten a response after one day, send the first follow up email. This should be a slightly modified version of the original email condensed into two or three sentences.
Should this message get no response after two more days, move on to the second follow up email. Use this message to restate your call to action briefly. It might also be a good idea to schedule a call or meeting, or ask for an introduction to the right contact person in the prospect's company.
If this doesn't get a response too, your last follow up attempt should come four or five days after the third email. This is called the "break up email" because you will use it to say goodbye to the prospect. But it is also a strategic move because it is betting on the psychological principle of loss aversion. Basically, this means that, if people don't respond to the possibility of getting a certain benefit, then they will feel stronger about avoiding losses.
This approach works very well for cold sales email follow ups. But what happens if you're dealing with warmer contacts?
Sometimes you may face a situation where you've been talking with a prospect for a while and have already had several meaningful conversations. Then, right before closing the sale, they go quiet. No emails, no calls, no meetings – nothing. How can you deal with this?
When it comes to cold email outreach, there is a set timeline to follow. At most, you spend a week working on a prospect and move on if there is no positive response. But this is not the same case for warmer leads. Simply put, you keep on following up until you get a definite "yes" or "no" answer.
That said, you have to keep two things in mind: frequency and relevance. The goal here is to be persistent without being pushy, and you want to keep each sales follow up email simple but relevant.
If you're using RooJet, it will be easy to set up a rational follow up schedule that sends automated messages regularly without overwhelming the prospect.
The messages themselves don't need to be long or complicated. As long as you keep them brief, simple, and relevant, the prospects will start replying to your emails. Here is a sample follow up to give you some inspiration:
Hey (Prospect's name),

How's it going? Can we schedule some time to chat over the phone this week? How does (mention specific day) at (mention specific time sound?

P.S. I thought that you'd find this article/study/paper/other resource interesting! [insert URL]

Cheers,

(Your name).
Sales Follow Up Templates that Work
Templates are the spice of the cold marketing world. They make the entire process so much easier, faster, and more effective. But to send out sales follow up templates that work, you have to stick to these seven rules:
   Keep it short and sweet.

   Make sure that all your emails are personalized to the prospect's core business and interests.

   Tell the prospect exactly why you're reaching out.

   Refer to things that your current customers love about your product, service, or platform. You can do this by including things like customer reviews, testimonials, interviews, and case studies.

   Make sure that any content you share with the prospect is relevant to their business needs.

   Let the prospect take control of their buying experience by asking them what the next step is.
With that, let's dive into the sales follow up templates that work for different situations:
1. Sample Follow Up Email when Prospect Asks you to Get Back to Them Later
Hi (Prospect's name),

I understand that you have some questions about our (mention specific question, e.g. product solution or pricing).

Are you available for a quick 10-minute chat to talk about how we can help you (mention relevant benefit) on (mention specific date and time)?

Best,

(Your name).

Alternatively, you could also use this template:

Hi (Prospect's name),

The last time we spoke, you asked that we reconnect in January. I know that I'm a bit early, but I wanted to see if I could answer any pending questions or concerns for you.

Do you have time for a quick 10-minute chat on (mention specific date and time) to connect?

Best,

(Your name).
2. Sample Follow Up Email after No Response
Hi (Prospect's name),

I know you're really busy, so I won't take up much of your time. In case you missed my earlier email, the (mention specific) team here at (name of your company) is very interested in (restate the context). I believe that this would be an awesome opportunity for you to (restate the value proposition).

Are you available for a quick 10-minute chat on (mention specific date and time) to talk more about how (name of your company) can help you (mention specific benefit)?

Best,

(Your name).
3. Sample Follow Up Email after a Meeting
Hi (Prospect's name),

I'm so happy that we had a chance to meet today! Thank you for your time and having me come over to your office.

Quick question: can you please confirm that this roundup of our discussion is accurate?

From our meeting, the next steps that we agreed on are:

   Next step

   Next step

   Next step

If you have any more questions or concerns, don't hesitate to get in touch. If not, I look forward to chatting with you again on (mention specific date and time).

Best,

(Your name).
4. Sample Follow Up Email to Client after Sending Proposal
Hi (Prospect's name),

In line with my earlier email proposal, (name of your company)'s (name specific software/platform/service/team) can help you (mention specific value proposition).

In turn, you will be able to:  

   Benefit 1

   Benefit 2

   Benefit 3

The next step would be to (mention specific next step). Are you available on (mention specific day and time) to review this together? If not, let me know how your calendar looks like and I'll work around your schedule.

Best,

(Your name).
5. Sample Follow Up Email to Prospective Client
Hi (prospect's name),

Hope this email finds you well. Any word on (restate your ask)?

I know you're very busy, so would you mind giving me a click below if any of these scenarios apply:

[URL] 1. I'm not ready yet – remind me later

[URL] 2. I'm not in the market anymore – thank you

[URL] 3. What's the next step?

I really appreciate this – it will help me understand where you stand.

Best,

(Your name).
6. Sales Quote Follow Up Email in Case of Price Objection
Hi (Prospect's name),

I understand completely – you want to use a product/service/platform that provides the best value for you and your company. So, let's see if we can find a creative way to make this work.

What if we (mention customized features/value proposition etc, e.g. upgraded your account)? (Explain the new benefits in one sentence).

This will guarantee you savings of $X/hr for every user who can now (mention relevant feature/benefit).

Is this worth discussing? If so, let me know and we can set up a quick 10-minute call on (mention specific date and time) to talk more about this.

Best,

(Your name).
7. Sales Lead Follow Up Email Template
Hi (Prospect's name),

I'm writing to you to follow up on my earlier email. I haven't heard back from you and your team yet.

If it makes sense to chat, are you available for a quick 10-minute chat on (mention specific day and time)? If this doesn't work for you, let me know how your calendar looks like and I'll work around your schedule.

But if it doesn't make sense to talk, who would be the best person to reach out to on your team?

Either way, I appreciate your help.

Best,

(Your name).
After-Sales Follow Up Email Examples
Over a prolonged follow-up campaign, you need to keep your emails fresh to capture the prospect's interest. That will take some quick thinking and innovative messages! So, take it a step further and follow up in these unique ways:
1. Use Lead Magnet Opt-Ins
Simply put, a lead magnet is anything of value that you give away in exchange for a site visitor's email address. This could be anything from free merchandize, reports, to product discounts.
For most companies, lead magnets tend to have an educational value, so the follow up should follow the same trend. But this is not set in stone! If you're running an online fashion store and your lead magnet is a 10 percent site discount to new subscribers, then your follow ups could be a daily newsletter, customer reviews, or style tips.
On the other hand, bigger businesses that sell big ticket items and have a tried and true content marketing strategy don't really need to use emails as part of their normal follow up process. That said, such businesses can use the lists generated to help them build a massive loyal following.
Even better, this tactic is a great way to keep your business on your customers' minds. It is also a proven way to drive consistent traffic to your website.
The main goal is to deliver content that your audience finds interesting. This could be anything, really – tips, tricks, case studies, how-to guides, and any other useful resources. If you consistently send out follow up emails that offer some value – instead of just focusing on making sales – then you will definitely get them to reply to your emails.
2. Use Free Trial Signups
If you are running the marketing campaign for a software or other subscription-based company, then your primary focus isn't on one-time sales. Instead, your goal is to get users motivated to keep signing up for your service.
A great way to do this is by offering your users a free trial. This approach will get potential users interested in your platform and actively working with your product. The hope is that, once you get people to sign up, you can easily turn them into paying customers – as long as they like your product.
To do this effectively, start off by following up on new trial subscribers with a welcome email. The focus here should be on making a connection with the prospect, instead of diving straight into the product. This sample follow up email can give you a good idea of what this should look like:
Hi (Prospect's name),

Welcome to (name of your product/service/platform)! We really appreciate you joining us, and I know you'll love it when you see how easy it is to bring awesome personalized support to every customer.

We built/developed (name of your product/service/platform) to (mention your core goal/function), and I hope that we can help you achieve that.

If you don't mind, we'd love it if you could answer a quick question for us: why did you sign up for (name of your product/service/platform)? I'm asking because knowing why you signed up would help us (your value proposition).

Over the next few weeks, we'll be sending you a few more emails to check in and give you some tips to help you use (name of your product/service/platform) to grow your business.

Thanks,

(Your name).
This type of follow up can be an awesome source of feedback for your business. This in turn can help you improve your product, website, and marketing campaigns. This sales follow up works because it:
   Provides great value in the form of tips, tricks, and case studies

   Tells the user exactly what to expect

   Helps the user learn how to use the software or platform even faster
After this first follow up, you can send subsequent emails based on the user's behavior on your platform. Adding this level of personalization can help drive up your conversion rates significantly.
If you are trying to do follow up the right way, then it is very important that you use the right sales follow up tools. These can help you run a well-oiled, effective follow up campaign. And the best part? These tools can ensure that you don't spend hours slaving away at your workstation to get things right.
With that in mind, it is important to note that RooJet is the best sales follow up tool for your campaign. It allows you to automate your follow up efforts, making sure that you'll never miss a day of your schedule.
Even more importantly, RooJet has powerful analytic tools that allow you to keep track of your cold email and follow up campaigns. With this, you will be able to test your emails or know what works and what doesn't.
Through this feature, you will have the benefit of making any necessary changes throughout the process. This could mean the difference between the success and failure of your follow up efforts.
Sending the perfect sales follow up email is not some special power that can only be used by a few marketers and salespeople. With a little time and effort – and a lot of tenacity – you can also learn how to send the right follow up emails to improve your response rates and sales numbers.
Do you have any more tips or tricks to writing effective sales follow up emails? Don't forget to leave them in the comments below!