How to Get More Clients with the Perfect Cold Email Pitch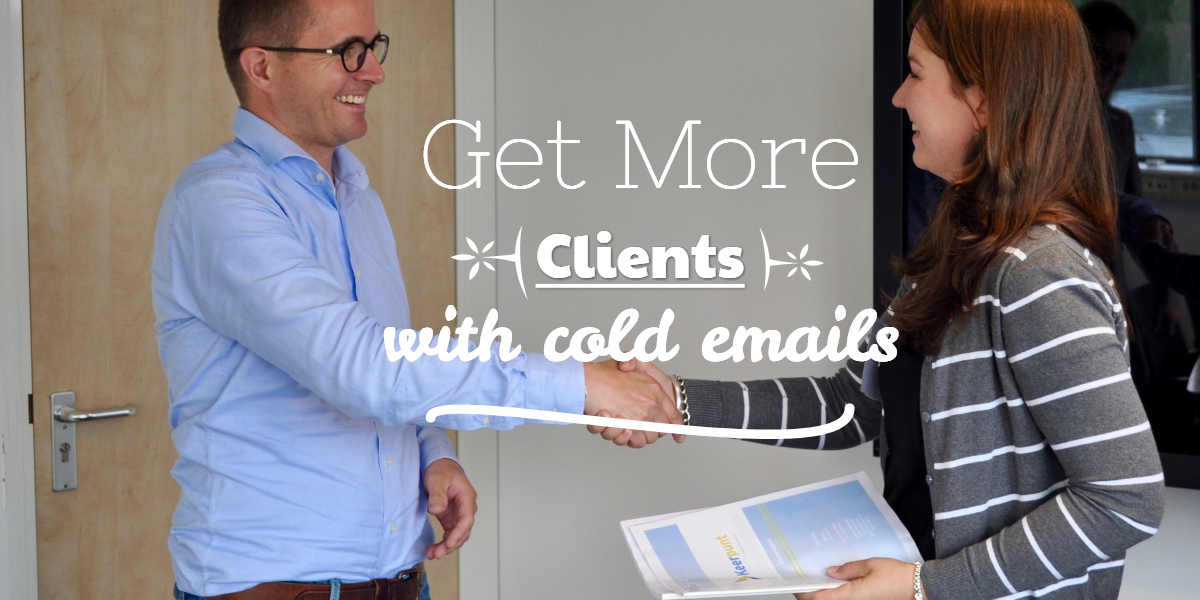 One of the biggest concerns for many marketers, small business owners, and freelancers is how to get more clients. The reality is that if you don't get new clients, you cannot bring in any money – whether that is in terms of payments, commissions, or profits. So it makes sense that a key concern for many salespeople and freelancers  is finding different but effective ways of attracting new clients.
Start A Cold Outreach Campaign with One Click! More Leads - More Customers.
Find Emails From Any URL
Add To A Outreach Campaign (One Click!)
Follow Up Automatically

Start Your 7 Day Free Trial Now!
Unless you're already well known or have many connections, you can't rely on referrals as your only source of new business. So, if you can't get them to come to you, then you have to find innovative ways to reach out to them. Sending pitches to potential clients has always been the best way of doing this.
As you start out in any business, a lot of this outreach will be in the form of cold email. That is because you will essentially be sending sales email pitches to people that don't know you. Without any form of prior contact, pitching via cold email can be quite challenging – but that doesn't mean that it is impossible!
With the right knowledge and the perfect sample emails to send to potential clients, you can get a ton of new leads in a short amount of time. You will be able to craft cold email pitches that break the ice and establish a meaningful rapport with potential clients.
But if you're not doing something to stand out from a crowded inbox, your cold pitch will go unread. Cold emailing is a powerful tool that can help you win over a lot of new clients, but you have to get their attention right from the start. It also helps if you make a great first impression. This will help you start and maintain a meaningful conversation that will lead to new business for you.
So, how do you do this? How can you convince potential clients to send some business your way? Here are a few things you need to know if you want to get clients with cold email.
If you have been doing email outreach for a while now, then you know that stone cold emails rarely work. But, for the benefit of those who are just starting out, let's break this fact down:
If you send out cold pitches randomly or without any prep work, your emails won't work. In fact, some prospects would even go as far as labeling these kinds of emails as spam. The key to  an effective cold email is that it gives information or provides a product or service that the prospect needs.
For your cold pitches to work, you have to determine if each prospect will be a good client for you. Even if you do not know them personally, you should at least know what they need. There is no point in sending them email pitches if the prospect cannot use your service or product.
Some people subscribe to the notion that sending out a lot of pitches is a good move because it will increase your odds of success. But that is not the case most times. It is much better to focus on creating quality pitches and reaching out to a targeted group of prospects. Even if this approach won't allow you to send as many email pitches, you can be sure that more prospects will open, read, and respond to your efforts.
Research, research, research!
So, this means that the first step of any cold email outreach campaign should always be research. Put in the time you need to learn more about your prospects. Here are some things that you can focus your research on:
Research helps you identify the specific solutions that you can provide for potential clients. And you don't even have to meet the prospect to get the information you need! You can start with a simple Google search to find out a bit more about the prospect. Also, check out their social media channels, blogs or websites (if they have any).
Getting this info is crucial if you want to craft better email pitches. It will allow you to tailor each message to the recipient. You will also find out if the prospect will be a good client or a bad one.
For example, say you find a company that you might be interested in working with. In the course of your research, you might find out that they don't pay freelancers well or on time. Because of research, you will be able to target a higher quality of client.
Who knows – you might find yourself dodging a lot of bullets this way!
Your goal is to grow your client base. On the other hand, you also have to keep in mind that the prospect's goal is to work more efficiently. Research will help you find the sweet spot between these needs: show that you can solve the prospect's problems and you will get more business. And the best part is that you will achieve all this while saving time and landing more gigs.
Keep the Introduction Brief
The goal of any cold email pitch is to introduce yourself to a prospect and leave them with an awesome first impression. So you do not have to go on long-winded tangents about your life story or company mission. That said, you also have to keep in mind that the prospect might not know anything about you so make sure to add all the important details.
You will also have to find ways to introduce yourself without coming off like a used-car salesman. Put yourself in the prospect's shoes and think about the questions they might be asking as they go through your pitch. Who is this? What do they do? How will their service or product help my business? And, why should I work with them?
Here are a few examples of good intros that you can use:
I love [insert prospect's company name] (been a customer for a couple of months. I'm also a huge fan of your work at [prospect's website or blog].

My name is [your name], and I'm [your title] at [your company]. We just launched [one sentence pitch].

I've been a huge fan of [prospect's website/blog] for a long time now. I especially loved your recent piece on [mention post title or topic]. [link to the post]
The goal here is to answer these questions comprehensively, If you can do so and give enough information about your skills and experience, you will grab and hold the prospect's attention. It also helps set you apart from the crowd and prove that you are actually good at what you do.
But most importantly, you must keep the introduction brief. A lot of prospects will simply skim through or even delete email pitches that are too long.
Use your Email Pitch to Make a Connection
Did you know that you can connect with prospects even before sending out your first email pitch? You might not meet them in person, but you can still touch base with potential clients online.
Social media is a powerful tool that has made it possible for you to connect with anyone, from anywhere, at any time. You can start your outreach by following potential clients on their social media channels. If they have a website or blog, you could also comment on their posts once in a while.
With these moves, the prospect will hopefully remember you when the time comes for you to start sending out email pitches. Even though you have never met, they will have a general sense of who you are.
But even if you don't do all this, you can still build rapport with prospects in the pitch itself. Find a recent career move or achievement and compliment the prospect on it within the pitch. If you follow them on social media, pick one takeaway comment and use it within your email. Or, if the prospect runs a blog or website, select some key points from recent posts and use them to start a conversation.
Whichever method you use, it will make your email pitch even more effective. That is because it shows that you are aware and engaged with the prospect and that you genuinely care about what they do.
When you think about it, the kind of quality client that you want is a very busy person. They receive a ton of new emails every day – most of which are likely to be cold emails. If you want yours to stand out from the rest, then you have to make it personal.
Personalizing your pitches is about more than just using the prospect's name and sprinkling in a few details about their professional lives. You should always use the prospect's first name to open every email. But it is only the first step in making every cold email as relatable as possible.
Also, use every relevant detail to your advantage. Using interesting information or funny anecdote that you collected during research will capture and hold the prospect's attention. And don't be afraid to show a bit of your personality in the email! As long as it is respectful and relevant to helping you get the job, use it. This will show the client that you are easy to work and get along with, improving your chances of success.
Start A Cold Outreach Campaign with One Click! More Leads - More Customers.
Find Emails From Any URL
Add To A Outreach Campaign (One Click!)
Follow Up Automatically

Start Your 7 Day Free Trial Now!
Get the Perfect Copy for Your Pitch: Sample Emails to Potential Clients
Hi (Prospect's name),

Just wanted to say that I am a huge fan of (prospect's blog/website). I loved your recent (article/ post/tweet) on (mention relevant topic). I especially liked what you had to say about (mention specific takeaway).

I work with companies like (mention one or two competitors) to (mention specific tasks). Here's one of the most recent (mention specific output, such as videos or posts) that we published on their site. In fact, (Mention specific benefit).

If you are interested in the same, would you be open to a quick 10-minute call on specific time and date) to discuss this in more detail? If that doesn't work, let me know and I can work around your schedule.

Best,

(Your name).
Hi (Prospect's name),

My name is (mention your name) and I'm in charge of (mention relevant title) at (mention your company. We recently (briefly explain your pitch in one sentence).

Now, I might be wrong, but your online profile shows that you are the best person to connect with about this. But if not, you may be able to point me in the right direction.

I would like to talk with someone at (name of prospect's company) who is in charge of (mention the relevant task or job title).

If that's you, would you be available for a 10-minute call on (mention specific time and date) to talk about how (your company/product/service can help your business? And if not, could you put me in touch with the right person?

I would really appreciate it!

Best

(Your name).
Hi (Prospect's name),

Just reaching out because (name of mutual contact) suggested that we connect. (Name of your company) has a new (tool/platform etc.) that will help your team at (name of prospect's company). (Include a one-sentence pitch of your value proposition).

I know that (name of your service/product) will be able to help (name of prospect's company) to (mention specific high-level benefit).

Are you available for a quick call on (mention specific date and time)?

Best,

(Your name).
Hi (Prospect's name),

I'm (mention your name), a (mention your post/job title) at (your company name). We're at (mention specific field) firm that (mention specific accompany activity). We've decided to (mention your new product or service) that can help you (mention specific benefit). (Include URL to service or product).

We created (mention your new product or service) in mind. (Include a one-sentence value proposition).

I noticed on (mention relevant social media channel) and saw that you are (mention prospect's interest or hobby that will help you connect). Since you're a fan of this stuff, I thought you would find (mention your new product or service) interesting.

Are you available on (mention specific date and time)? I'd love to take you out for a quick 30-minute coffee and lunch at (mention a spot that is close to their office. Let me know if that doesn't work for you and I'll work around your schedule.

Best,

(Your name).
Finding the Best Prospects for your Cold Email Campaign
We can all agree that spending time on crafting the perfect cold email pitch is vital to your success. But that only works if you are reaching out to the right people.
Even the most persuasive pitch will be marked as spam or sent straight to the trash folder if you send it to people who don't need your service or product. This also applies if you target prospects that are not the primary decision-makers in their company.
So, a large amount of your research should focus on finding the right prospects. You can do this easily by mining Google or any other search engines for data.
You should also focus some of your energy on creating comprehensive customer personas. Who is your ideal customer? What interests and excites them? Which challenges do they face? And – most importantly – what role do they play at their companies?
Once you have this down, you can then start carrying out targeted research to find the people that fit these criteria.
4 Tips to Help you Take your Cold Email Pitches to the Next Level
When you are trying to get clients with cold email pitches, follow these four tips to help you craft the best message possible:
1. Focus on providing value to the prospect
When someone receives a cold email, the first thing they want to know is how they will benefit from it. That may sound a bit harsh, but it is only human nature. If your pitch consists of a long list of your achievements or product features, prospects will ignore it right off the bat.
That is because all these details mean nothing unless you can clearly show how they will benefit the prospect. An effective email pitch is one that defines the value proposition to the recipient.
For instance, a lot of people say something like:
"I have X years of experience in the field."
That might sound like a completely reasonable tidbit to include. But the prospect does not care about you or your qualifications – at least, not yet.
Instead, you should present this information in the context of what value your experience can add to the prospect:
"With over 15 years of experience in the (mention specific) industry, I can help you (mention benefit) that will help increase your sales by X percent."
Make sure that your focus is on offering value instead of desire to quote stats and awards. This approach will grab the prospect's attention and raise your credibility.
To catch the attention of a high-quality prospect, then you have to use an effective email subject line. But once that is done, then you have to find a way to entice them to keep reading. Writing a pitch that is longer than most blog posts is certainly not the way to do this.
Busy executives want to skim through an email and get all the relevant details at a glance. So, get straight to the point and make your pitch a quick read. A good cold email pitch should be long enough to read and respond to in one minute.
When it comes to cold email outreach, a lot of people give up too easily. They see a lack of response as the prospect rejecting their pitches. That is not always the case, but you won't know for sure if you do not follow up.
If you don't get a response on the first email, then follow up until you do! The reality is that it might take five to eight emails (or even more!) until you get a response. Persistence is the only way to drive up your open and response rates.
4. Save time with automation
Sometimes you may have to send out hundreds of email pitches as a part of your outreach campaign. This could explain why freelancers and small business owners just can't handle the process. And you haven't even taken into account the work that is involved in preparing responses and following up.  
This is where automation comes in. It will allow you to increase the number of prospects you can reach every day. There are a number of online automation tools that can help you automate your outreach campaign.
You can use our great new tool – RooJet – which lets you find email addresses, automate follow up, and track your progress.
Get Clients with Cold Email Now!
Email is a powerful tool for engaging prospects and generating new business. But it does take a lot of time, testing, and practice to find what works for you. Persistence also pays – it will give you the passion to keep going after prospects until you get a definite answer.
Take time to do your research and find out more about your prospects even before you reach out. Also, personalize each message to warm up your cold email pitches.
As you carry out any outreach, remember that prospects want you to show them how your email will benefit them. What does your prospect need? And, does your product or service solve a key problem for them?
Answer these questions and you will be able to come up great copy that potential clients will respond to. By putting all these tips together, you will then be able to get more clients and drive up your profits.
What methods have you used to get more clients? Don't forget to share your own tips in the comments below!
Start A Cold Outreach Campaign with One Click! More Leads - More Customers.
Find Emails From Any URL
Add To A Outreach Campaign (One Click!)
Follow Up Automatically

Start Your 7 Day Free Trial Now!